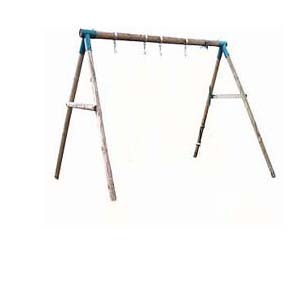 The option of build your own swings allows you to make your swing frame to how you would like it. This allows you to create a swing frame which will meet the needs of your family, and ensure it is compatible with your chosen swing accessories.
These options are great for those who are looking to add accessories such as nest swings to their climbing frame. Typically these accessories will require a larger designated swing position and different swing brackets to attach to the frame. Package swing frame deals are often designed to meet the needs of standard swing accessories.
Our range of different products for build your own swings gives you the freedom to create a unique and bespoke design. When looking at build your own swings, you should consider:
What timber do I want to use? The length and profile (square or round) will be a large factor determining the design and size of your swing frame. This will also dictate the swing hooks and end brackets you will require.
What swing accessories do I want to attach? The choice of swing seats and accessories will affect the length of the frame, and the swing hooks which will be used to attach the accessories. Some swing accessories, such as nest swings, require specific swing hooks such as the Duo Ride Bracket.
How much space do I have? Determining your working area allows you to figure out the maximum length of your swing frame. For those looking to save some space, our 'Right-Angled' range of swing brackets are ideal. This allows the legs to sit perpendicular to the rest of the swing frame. Therefor this will not add any extra length to the frame.
Display 15 Products per page