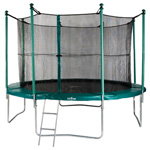 Choose a trampoline for your garden and you will never be short of friends.
It's great exercise for all the family.
A trampoline gives you the opportunity to enjoy low impact aerobic exercise out in the fresh air, while developing balance, agility and co-ordination skills.
All trampolines are different.: The type of frame, the number of springs, quality of the springs, quality and thickness of frame pads, the weight limit the trampoline will hold, etc…..
When choosing your trampoline we strongly recommend you consider these factors, and choose the trampoline that`s right for you.
Display 15 Products per page