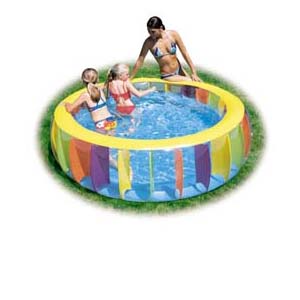 Young children enjoy a splash just as much as adults and older kids! Our range of paddling pools means they don't have to miss out. We have been sure to provide a range of products to suit all ages. These include our smallest of pools for toddlers, to larger pools for families.
Alongside providing fun and enjoyment, paddling pools can bring toddlers and young children many other benefits. Paddling pools act as a great stepping stone before swimming lessons begin. They allow children to get used to the feeling of being in the water and splashing. These pools are also a great way to ensure children get plenty of outdoor play time in the summer.
Bright colours and fun designs add to the splashing fun! Creative features such as spray nozzles and see-through windows bring lots of laughter and giggles to the garden. Without a doubt, little ones are sure to be entertained for hours on end!
Display 15 Products per page