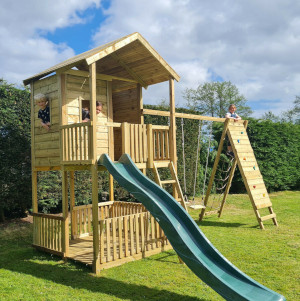 For many years, the choice of having wooden climbing frames in residential gardens has been more popular than their metal counterparts. Strong, sturdy and easy to maintain, these frames won't rust or need a touch-up paint job!
We offer wooden climbing frames from Planet Playframes, Countrwood, TP Activity Toys and Creative Playthings. These ranges offer customers a varied selection of frames, both in design and price.
Creative Playthings frames can be purchased as a package deal, or as a build-your-own option. This allows you to design your climbing frame just as you would like it! Start with a tower, and build from there – adding a more personal touch to your garden.
Most climbing frames are delivered within 3 -5 working days. We deliver nationwide, and more than happy to deliver outside the UK Mainland, however please call for a quote.
Display 15 Products per page