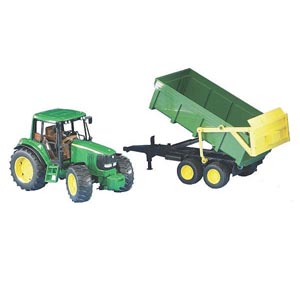 Toy scale models can provide hours on end of imaginative and realistic play, both for children and adults alike. We have specially picked a range of top quality products from well known brands. This way we can provide you with some of the best scale model toys available.
Bruder Toys are German manufacturers of high quality scale model toys in 1:16 scale including farming, construction and vehicular models. These tractors and accessories are very popular amongst small children and farming enthusiasts due to their realistic design and functionality. Many of these models feature opening bonnets, detachable wheels, and additional steering rods to allow for steering through the sliding tractor roof. Accessories and attachments enhance the fun, in addition to figurines which can interact with the models.
Siku Toys create farm models in a 1:32 scale, constructed using a combination of plastic and metal parts. With incredible levels of detail included in the design the quality of this range is hard to beat! Tractors, attachments and accessories are available in an abundance, and even include a range of remote control models.
Kids Globe provide a vast range of farming scale models to allow for more than just scale model vehicles. Their wooden construction farm buildings are some of their most popular products, including stable clocks, milking parlours and machinery sheds. Super realistic accessories give any carpet farm a high quality upgrade, with models such as silage filling, hay bales, artificial grass as more! These products are available in a range of scales including 1:16 and 1:32. This makes them perfect accessories for both Bruder and Siku!
If you are looking for a particular model which is not listed, even if it's from a different make/brand, please contact us. We are likely to be able to order it in specially for you.
Display 15 Products per page