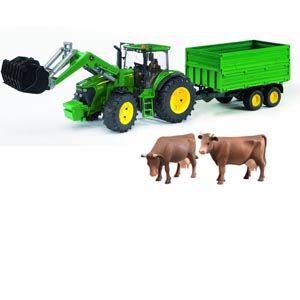 Bruder Toys are German manufacturers of high quality scale model toys in 1:16 scale including farming, construction and vehicular models. These tractors and accessories are very popular amongst small children and farming enthusiasts due to their realistic design and functionality. Many of these models feature opening bonnets, detachable wheels, and additional steering rods to allow for steering through the sliding tractor roof.
A range of trailers for Bruder tractors allows for a wider range of farming activities. Manure spreaders, tipping trailers, bale trailers and more are all available to enhance your farmyard scenes. Other attachments for tractors include front loaders, bale wrappers, ploughs, seed drills and more!
In addition to the farming range of Bruder toys, construction equipment and vehicles are another popular range. These include scale models from well-known manufacturers such as Volvo, CAT, JCB, Liebherr, etc.
Accessories and attachments enhance the fun, in addition to figurines which can interact with the models.
Display 15 Products per page