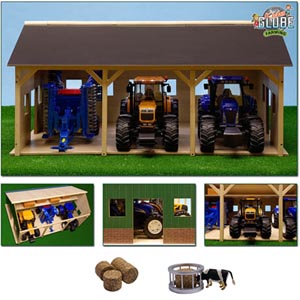 Kids Globe scale model toys make for the ultimate carpet farm for children and adults alike! The attention to quality and fine details are what makes these accessories look so realistic. Our range of products include farm buildings, cattle and other farmyard animals, and accessories such as fences, silage, bales, etc.
What would a farm be without its buildings or sheds? With a huge range of wooden structures on offer, these buildings will easily be the center-piece of any farm scene! Our range includes cattle sheds and parlours, machinery sheds, silage pits, horse stables and more!
Every farm needs some livestock, right? Our scale model animal figurines are available in various colours and positions, such as standing, eating, laying down and more. And don't forget the little ones! Calves can be bought in a set of 6, or even with a calf hut to keep warm at night.
Kids Globe farm accessories is where this range of products really shine! Fences, pallets, potato crates, artificial grass and more are all available to raise your carpet farm to a whole new level. Silage pits can be completed with bags of silage and silo filling, and then covered with sheet and tyres. Compressed wood chip provides an amazing realistic look to bales, available in round, square and wrapped varieties.
Kids Globe provide a range of scale model toys in popular scale sizes, including 1:16, 1:32, and 1:24. This means that you can combine your favourite models from manufacturers such as Bruder and Siku with your Kids Globe farming scenes!
Display 15 Products per page