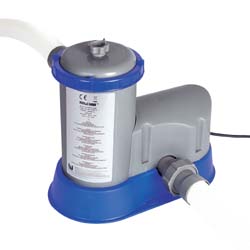 For those who want to make the most of their pool, our range of pool spares and accessories will provide you with everything you need!
Pool covers are great for keeping leaves and debris from falling on the surface of the water when the pool is not in use. These are available for fast set and steel framed Bestway pools, and also the Deluxe Family pool. Solar covers are different from standard pool covers, and are not designed for the same purpose of pool covers. Solar covers resemble a bubble-wrap texture, designed to float on the surface of the water with the bubbles facing down. These will capture the sun's rays and heat the water in the pool. Solar covers are available for Bestway fast set and steel framed pools.
Spares, repairs and accessories are ideal for making the most of your pool. These products can often mean the difference between more years of use, or purchasing a whole new pool.
Nobody wants to swim in a green and dirty pool. Our range of water treatment and pool cleaning products are sure to keep your pool in tip-top condition all summer long! With various cleaning kits and pool chemicals available, pool maintenance has never been easier.
Our range of pool filter cartridges and filter pumps are the ideal partner for your pool. Pumps are necessary for larger pools to keep the water clean and clear from debris.
Display 15 Products per page