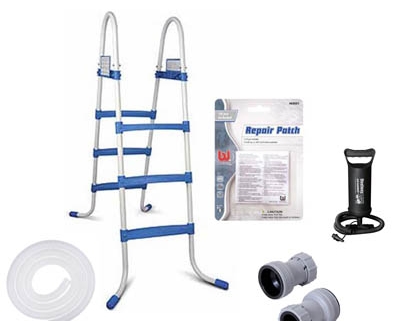 Our range of pool spares, repairs and accessories can help you make the most out of your swimming pool this summer, and for years to come!
Fast set pools and inflatable accessories can be daunting for those tasked with inflating them, however it needn't be. With hand inflation and AC air pumps available, these tasks soon become a doddle! These pumps include various nozzles/valve adapters to allow for a range of applications.
Found a small tear or hole in the lining in your pool after pulling it out of the garden shed? Don't despair – you may not need to buy a whole new pool! Our repair patches and repair kit means you can tackle small repairs on your own.
Replacement hoses are your saving grace if you have found a split in yours! Hose adapters are also available for those who want to upgrade their pool's filer pumping power! These allow for the attachment of larger filter units to smaller swimming pools, which normally use small filter pumps.
If you find you are struggling to pump over the side of the pool, perhaps consider a pool ladder. These allow for swift and safe access to the water of the pool, without forcing pressure on the frame or pool walls.
Display 15 Products per page