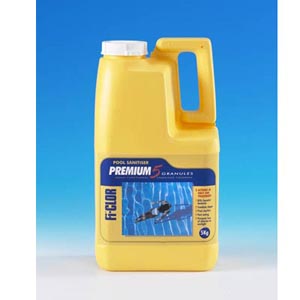 Nobody wants to swim in a green and dirty pool. Our range of water treatment and pool cleaning products keep your pool in tip-top condition all summer long! With various cleaning kits and pool chemicals available, pool maintenance has never been easier.
Pool cleaning kits are the ideal accessories for tackling the jobs which a filter can't manage. The Maintenance Kit features a skimmer for collecting leaves and other debris floating on the surface of the water. In addition, interchangeable heads allow for the fitting of a vacuum with reusable debris bag. This is ideal for collecting those pesky bits that sit on the wall and floor of pools. The AquaCrawl Pool Vacuum features three different adapters, therefore allowing it to be used with a range of pools and filters.
With so many different pool chemicals on the market, it can be difficult to know exactly what you need for your pool. Fi-Chlor Premium 5 Chlorine Granules is a 5-in-1 product providing everything you need in a powder.
Display 15 Products per page