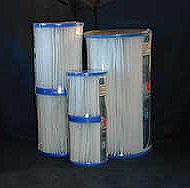 Pool filter cartridges paired with a good quality filter pump is key for keeping pools clean from grime and debris. Replacing filter cartridges are essential to ensure the smooth running of a filter system. We stock a range of spare pool filter cartridges to fit Bestway filter pumps.
It is recommended that a pumps filter cartridge is changed at least every two weeks. In the heat of the summer, when the pool is often used on a daily basis, cartridges become blocked with debris more easily. Removing the cartridge from the pump and regularly rinsing will help to prolong its life.
Different sized filter cartridges are available for different sized filters. Be sure to check which size filter you will need to fit your pump because they cannot be returned once used.
Display 15 Products per page