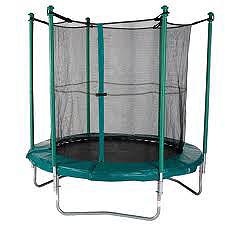 Two ranges of Emerald Trampolines to choose from.
Both ranges offer extremely good value for money; both are of a very high quality, and far exceed many 'mass produced trampolines' that are available on the market today!
The Emerald Standard series provide good quality trampolines at lower prices than the Emerald Elite series. These have slightly fewer springs, and thinner padding – but again far better quality than many trampolines on the market!
The Emerald Standard series trampolines prove extremely robust and excellent value for money.
The Emerald Elite Series provide quality trampolines with excellent closed cell safety padding for added safety and durability, these are very thick heavy duty pads. With 7″ springs on the 10ft model, and 8.5″ springs on the 12ft trampolines, this offers an extremely good strong, high performance bounce.
The Emerald Elite Series trampolines are of a higher specification than the standard series, offering a high level of performance and quality.
All trampolines come with a strong, sturdy safety enclosure, with heavy duty safety net – a free trampoline ladder is also included with every model.
Display 15 Products per page