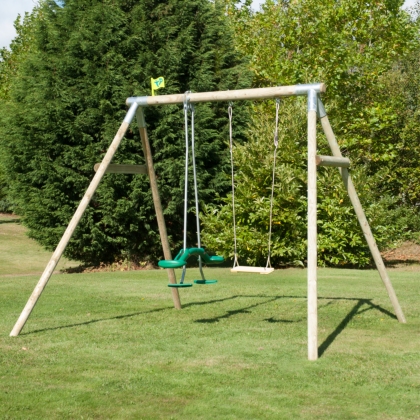 Wooden swing frames are typically the traditional choice for swing sets used in a residential environment. Strong, sturdy and easy to maintain, these wooden legs and beams won't rust or need a touch-up paint job!
Our range includes products from TP Activity Toys, Creative Playthings, and our own Countrywood range, giving you plenty of options to choose from.
Unsure what you should be looking for in your ideal swing frame? Here are some questions you can ask yourself to help make your decision:
How many swing positions do I need? – Different swing frames can be built to accommodate a different number of swing positions. This is indicated by being a single (1), double (2) or triple (3) swing frame. The Creative Playthings Concord features 4 swing positions.
Do I want my swing frame to be dual purpose? – Some swing frames, such as the Countrywood Pilsdon and the TP Multiplay are a swing/slide combination. This adds to the fun of the frame, allowing for more than just swinging.
Are swing seats included? – Some of the wooden swing frames available include swing seats, so you get everything you need in a package deal. To some this would be great, however others may want to personalise their frame with their own choice of swing accessories.
Display 15 Products per page