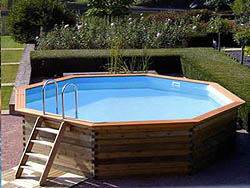 These quality wooden swimming pools known as the GardiPool range, look fantastic in any garden. Available in four different shapes and numerous different sizes, there is a pool for every garden.
GardiPool is a unique concept in swimming pools based on years of experience in the timber industry. It's a fully integrated product from tree to treated finished product.
The GardiPool concept brings beauty and functionality together in a quality swimming pool. Top of the bill is the unique, patented system of dovetail joints.
The joints are reinforced by a stainless steel threaded bar which allows you to tighten the frame at any time, and also makes it easy to take apart.
These dovetail joints mean there are no protruding parts, so it's as safe and child friendly as can be.
The extra thick pool borders are clipped on top of the basic structure in one piece to avoid any distortion, and are held in place by lateral supports which hide the fasteners and create a visually pleasing finish.
The borders are reinforced so you can easily stand or sit on the side of the pool.
Display 15 Products per page