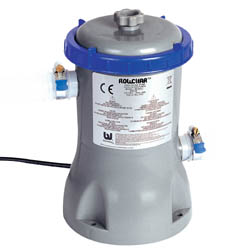 Pool pumps and filters are key for keeping pools clean from grime and debris. Our range of Bestway pool pumps and filters mean you won't need to constantly drain and refill your pool water. Filter pumps are a great and easy way of keeping your pool water clean, and are easy to set up.
Cartridge based filter pumps will have a cartridge included, in addition to hoses and clamps for secure fitting to pools. Bestway pool filter pumps include an installation guide to help with the simple setting up process.
It is important to consider what size filter pump you will need depending upon the size of your pool.
Display 15 Products per page