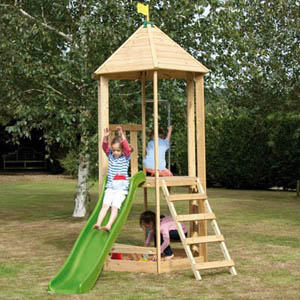 TP climbing frames offer a range of quality wooden garden play frames at competitive prices.
Their three different ranges (Kingswood, Castlewood and Forest) are designed to suit different age groups and budgets. In other words, you're sure to find something great for your garden that your children will enjoy playing on for hours!
Many of the frames included in this range can be upgraded and developed as children grow and become more adventurous. Accessories such as swing arms, monkey bars and slides can be added to enhance the fun!
TP climbing frames are constructed using FSC certified wood, and are designed with safety in mind. In addition, TP offer great guarantees and easy to follow assembly instructions.
Display 15 Products per page