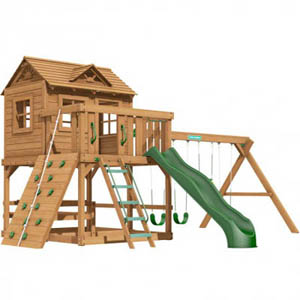 Creative Playthings complete sets offer a range of Premium Packages and combination sets, helping you find the ideal climbing frame for your garden.
Premium Packages for each Creative Playthings tower offer a unique combination of tower and accessories. Premium Packages grow and develop in terms of quality, features and price throughout each range. Lower numbered Premium Packages will feature accessories such as tent roofs and lower swing arms. As the numbers get higher upgrades and additions come into affect, such as deluxe wooden roofs and Skybox towers.
Premium Packages are available for the following towers:
Lexington Tower
Manchester Tower
Ridgefield Tower
Williamsburg Tower
Yorktown Tower
If you struggle to pick your favourite Creative Playthings tower, take a look at our range of combination packages. These package deals provide you with a combination of various towers and accessories together to form unique play sets.
Bridgehampton Premium Packages bring together all the best features of Creative Playthings climbing frames. These feature a mixture of the most popular towers and accessories, resulting in the ultimate climbing frame package!
For those who are limited for space but still want to bring some fun and play to their garden, the space saver swing sets are perfect! For those little ones who aren't interested in swinging, the play centres offer plenty of space for climbing and sliding fun by removing the swing arm.
Display 15 Products per page