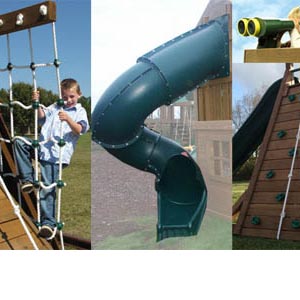 Creative Playthings accessories and add-ons can transform even the simplest of play towers into the ultimate play frame!
These features are essential for those who are looking to create a unique design-your-own frame. With an endless amount of possibilities, sure to provide hours of fun!
Looking for some inspiration? Consider what type of activity you would like to add to your frame:
More/larger play area – Additional play decks such as the Skybox and Manchester Fun Deck add a whole new platform to your play towers. These can also be customised with features such as roofs and slides.
Sliding – All stand-alone towers come with a Creative Playthings slide as standard. However if you are looking to upgrade or add another, there are many different options.
Climbing – Options such as different height rock climbing walls, chain climbers, ramps, rope ladders and more are sure to entertain the little monkey of the family!
A home away from home – Add-ons such as walls, floors, bottom clubhouses, benches, window flower boxes and more help provide children with their own secret hide-away – no adults allowed!
Imaginative play – Set sail on the seven seas and seek lands far on the horizon! Make-believe is even easier with ships wheels, telescopes, binoculars, telephones and more.
Please check that the Creative Playthings accessories and add-ons are compatible with the tower you have chosen. In addition, Premium Packages have a great deal of these products supplied as standard. If you are unsure if an accessory or add-on is compatible with your chosen tower, please contact us for assistance.
Display 15 Products per page