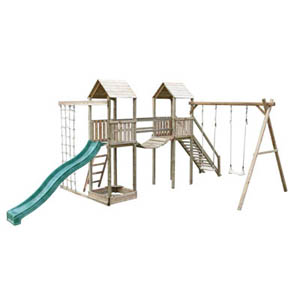 Action climbing frames offer high quality products and design at a reasonable price. Action create their frames using top grade seasoned pine, which is pressure treated to preserve its life.
Available below are a range of climbing frame sets, each featuring its own unique design of tower and accessory combination. Clatter bridges, commando ropes, monkey bars, climbing walls and much more bring endless hours of fun!
Action also offer their frames in a modular option, allowing for a 'build your own' frame. Begin by choosing a tower, then add accessories to end up with a unique frame designed by yourself! Please contact us for more information and prices regarding the modular options.
All Action climbing frames come with a 10 year guarantee against rot and insect infestation on all timber sections. They also provide a 2 year guarantee against technical faults and manufacturing defects.
Display 15 Products per page